Hey guys!
It's incredibly close to Christmas now (eeeekk) so from today, I'll be posting a Christmas themed tag each day for the run up to Christmas day! Get ready for a whole load of Christmas confessions, books and hopefully fun!
The Grinch Book Tag was originally created by Sam from ThoughtsOnTomes and my lovely friend Dani from TheIntrovertedBookNerd tagged me in this, thanks babe!
So from the title you can probably sense that this tag is based around negative book opinions, so this could get messy. I apologise in advance if I unintentionally offend anyone with my opinions, we can't all love the same books unfortunately and it in no way invalidates your own opinion!
Keeping that in mind, Let's dive in!
Lego!
Q1: Half of the lights on the Christmas tree are burnt out: Name a book/series/character that started out good but then went downhill?
Tricky question for me. I actually haven't read too many series' compared to standalone's or duo's. I'll say The Beautiful Ones by Silvia Moreno-Garcia, this was a standalone that I read recently. It was promising and then I got a bit bored, not enough action for the plot.
Q2: Annoying Great Aunt Sally who will not leave you alone: Name a book that you didn't enjoy, but everyone else seems to love so it never goes away?
First off I just want to mention that I LOVED the ACOTAR series by Sarah J. Maas, but Throne Of Glass just didn't do it for me! I know so many people adore the series and will probably hate me, but I just DO NOT like it, there!
Q3: Your pets keep knocking over the Christmas decoration: Name a character that kept messing things up for everyone else. (Can't pick a villain.)?
Although I enjoyed Firelines by Cara Thurlbourn, the MC Emi really annoyed me at times. I could not fathom the rationale behind some of her decisions, they didn't help anyone and just confused me.
Q4: You hear your parents putting out the presents and learn Santa isn't real: Name a book you were spoiled for?
I really really dislike spoilers! And they're very common amongst Twitter goers and the like, it's so frustrating. CAN WE PLEASE PRIVATELY DM INSTEAD OF PUBLICLY! There have been many a book that I haven't read because it was spoiled and some that I still needed to read. One of these being Everything Everything by Nicola Yoon. I saw a conversation about this PUBLICLY and found out the whole twist of the book! WHY! I still decided to read it and am glad I did, but seriously, STOP!!
Q5: It's freezing outside: Name a main character you just couldn't connect with?
A few months back I read The Sublime Karma by Peyton Garver and the MC Brie was just.. just not good. Her mental health and emotions were totally contradicted with her actions. I couldn't connect with her because it seemed so fake and just didn't add up!
Q6: Mariah Carey's 'All I Want for Christmas is You' and it's giving you anti-romantic feelings: Name a couple you couldn't stand?
Meira and Theron from Snow Like Ashes by Sara Raasch. I read the first book and really enjoyed it, what I did not enjoy was Meira's choice of lover! SPOILER – The book begins with Meira and Mather (swoon, heart, love) having always loved each other and finally admitting to it! However, she suddenly decides her feelings have mysteriously dissipated and ends up with Theron, like what, how, WHY? No, just no!! This is why I have never read the sequel! I'm a bitter puddin'.
Q7: That scratchy homemade wool sweater you got for Christmas years ago but won't get rid of: Show some books that have been sitting on your shelves for awhile and you aren't motivated to read, but you don't have the heart to get rid of?
I'm going with the Sequel here, Ice Like Fire by Sara Raasch. My husband bought it me whilst I was reading Snow Like Ashes, but I just can't bring myself to read it. The reason may be silly to some but I just HATE IT!! I also can't get rid of it because it was a gift!
Q8: Grandma got run over by a reindeer: Name a character death you still are mad about? (Warn people for spoilers! You can also use tv or movie deaths.)
SPOILER for Harry Potter!
Fred, why?! Dobby, why? Don't make me remember them, I WILL CRY!! I also agree with Dani on The Bridge To Terabithia, shocking and heartbreaking!
Q9: The malls are overly crowded with holiday shoppers: Name a series that has too many books in it/went on too long?
Again, the Throne Of Glass series. Will it ever stop? Unlikely.
Q10: The Grinch: Name one character you HATE. (No villains)
Yeaahh .. Celaena/Aelin from, you guessed it, Throne Of Glass. Please no one execute me! From what I've read, she is incredibly impulsive and ignorant. I just couldn't warm to her, hence my inability to read the series!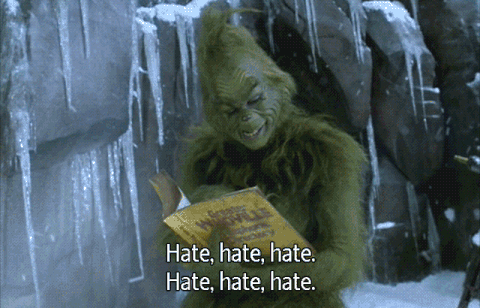 I tag:
That conclude's The Grinch Book Tag! I really hope I haven't upset anyone! Until next time guys ❣